ERO Units - Flat Pack Office Cabins & Storage Solutions
Economic Logistics
Sustainable Environment
Thanks to its unique design, it can be sent in large quantities at once. Economical shipping to all over the world with sea, road and airway shipping options.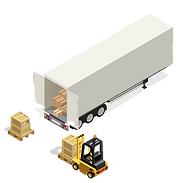 19 Trimod Containers can be transported at once with truck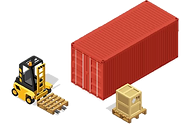 19 Trimod Containers can be transported at once with truck
15 Trimod Containers can be transported at once with shipping container.
You can fix the wall you want, whenever you want, wherever you want.
You can enlarge or shorten them whenever you want. All containers are composed of Unimod Container.

Partnership Opportunities
There are many reasons to choose EROUNITS with its patented design, economy, logistics advantages, practicality and cooperation opportunities.
Economic Logistics Costs
ERO Units containers help you reduce your logistics costs up to 50% with their modular design and compact package dimensions. It is also advantageous for small purchases with its suitability for partial shipment.
Both Triple
Both Double
Both Single
All containers are created by combining the unit module, the Unimod Container. You can use your Packaged Trimod Container as a Unimod or Duomod.
Single Order
Unlimited Design
You do not need to place a special order for the design you want. Moreover, it is possible to turn it into any design you want, not once, but whenever you want. The walls from the package can be fixed in the desired position.
Repackaging.
It is possible to install and disassemble ERO Units Containers, all systems of which are designed to be disassembled, not once, but many times.
Assembly Without Crane
ERO Units Containers are with you in all conditions, with the possibility of assembly in places where cranes cannot enter.
Choose your unit
Browse our selection of customizable Flat Pack Office Units and find the perfect size and style for your needs. With a variety of options to choose from, you're sure to find the ideal workspace solution.
Place an order, or call us
Ready to order your Flat Pack Office Unit? You can easily place an order online or give us a call to discuss your requirements with one of our friendly sales representatives. We'll guide you through the process and help you choose the best options for your needs.
Build with us
Don't have the time or expertise to build your Flat Pack Office Unit? Let our team of experienced professionals handle the assembly for you. We offer hassle-free installation services that ensure your unit is set up quickly and to the highest standards.
Get your unit
Once your Flat Pack Office Unit is built and ready, we'll deliver it directly to your location. Our team will ensure that everything is set up and ready to go, so you can start using your new workspace right away.
Happy & Satisfied Customers

"I needed a temporary office space for my business and ERO Units was the perfect solution. The flat pack design made it easy to transport and set up, and the quality of the materials is excellent."
Sarah

"I've been looking for a versatile and affordable office solution for a while, and ERO Units checked all the boxes. The unit was easy to set up and customize to my needs, and the quality is fantastic."
Daniel

"I'm really happy with the quality of my ERO unit. The materials are durable and the unit is well-designed for practical use. It's been a great investment for my business."
Mark
Answers to Your Questions
You can find answers to commonly asked questions about our Flat Pack Office Units, ordering process, shipping, installation, and more. If you can't find the information you're looking for, feel free to contact us directly and we'll be happy to assist you.
These modular office units are perfectly designed for you to assemble and even disassemble by yourself, without any need of skills. Depending on the size of the unit, all you need is a couple of spare hands to help. It is quite easy.
We can arrange the delivery to your door as kerb-side or if you prefer to pick up yourself and have the appropriate vehicle, you are all welcome to pick up from our depot. Just call us, and we will assist you in either way. 
The cabins come as flat pack and you will need a forklift or a crane to unload it from the truck and locate it to its final assemble position. You just need to check the weight of the parts of units in the fact sheets, so you can easily guess how many hands you need, all that easy!
Yes we do have, usually we do installation at our warehouse and delivering to your location, our costumers responsible for renting the crane.
For each flat pack office or storage unit, a very detailed fact sheet can be viewed on its own page. However, as a general information, insulated sandwich panels with electrostatic powder coated galvanized metal sheets are used as internal and external finishing. As insulation material 40 mm thick Polyurethane foam is used as the core of sandwich panels. The windows are double glazed PVC. Floors are PVC vinyl coated over plywood , with white skirting.